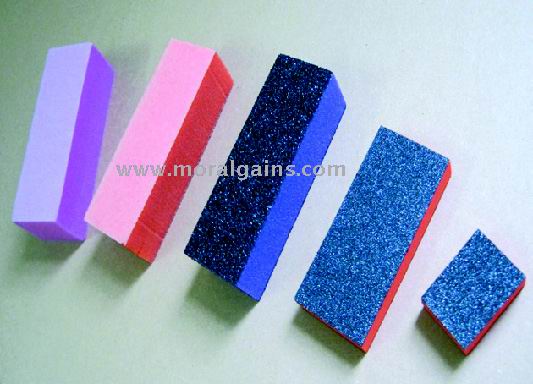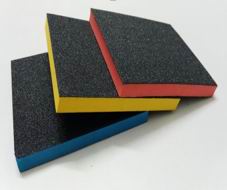 item code. MGCSB0009
COLORFUL EVA SANDING BLOCKS
彩色EVA是采用不同颜色的EVA原材料,做成的不同颜色的EVA海绵磨块,可做红,黄,蓝,绿,紫. 橙,
白等颜色. 并富有弹性和柔软性,干湿磨效果理想,用水冲洗可反复使用。适用于手工打磨金属、
油漆、木材、塑料等材料的异型面,其细粒度产品抛光效果良好。
Character: Colorful EVA/ SPONGE SANDING BLOCKS HAS THE ADVANTAGES OF ELASTICITY &
PLASTICITY AND WATER WASH , IT CAN BE USED REPEATEDLY , APPLYING TO ALL SORTS OF
IRREGUAL SHAPES OF METAL AND VARNISH NAD WOODWARES AND PLASTICS .

材质 SUBSTANCE: COLFUL EVA SPONGES
磨料 ABRASIVE MATERIAL: ALUMINIUM OXIDE / WHITE ALUNDUM
粒度 GRIT: 40# ~ 240# .
( 粗号 coarse:60#/80# 中号 medium:100#/120#
细号 fine :150#/180# 超细 Superfine:220#/240 )

常用规格 SIZE : 100x70x25mm, 125x100x12mm, 125x100x10mm,
140x115x5mm, 89x29x26mm, 74x34x13mm, 24x34x13mm.